Travelling With Your Pet: What You Need To Know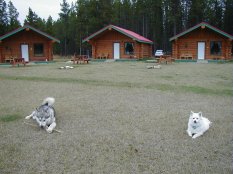 Many people now travel with their pets and accommodations are responding. More and more lodgings now allow pets - mostly dogs, but some will allow cats and other pets too! Here are some pet travel tips:
» Pet Travel: Questions to Ask Before Booking an Accommodation
» Good Travel Etiquette Is Important for Pets, Too
» Traveling Between Countries? Know the Regulations for Bringing Your Pet
» Trip Tips: Identification for Traveling Pets
» How to Minimize Fur Clean-Up While Traveling
» Existing in Harmony - Your Pet, Resident Pets, and Other Guest Pets
» Dogs Welcome - Information for Travelers with Dogs
» Car Sickness & Fear of Riding in Cars
» Protecting Your Pet From the Summer Heat
» Holiday Season Safety Tips for Traveling Pets
» Emergency Planning: Keeping Pets Safe From Harm
» Pet-Friendly Housing - How to Rent With Pets
Where To Find Pet-Friendly Lodging
Always find out the pet policies prior to booking as every accommodation will be different. Even if you've stayed there before with your pet, check anyways, since pet policies can change! And remember to book as far in advance as you can - most accommodations have set aside a certain number of "pet-friendly units", and once they're booked they don't take any more pets.
Also keep in mind that some places only allow dogs under a certain size limit. Ask to be sure.
» Canada: Pet-friendly hotels, motels, resorts and cottages (www.PetFriendly.ca)
» USA: Pet-friendly hotels (www.PetFriendly.travel)