A Recipe for Fresh, Tail-Wagging Homemade Dog Cookies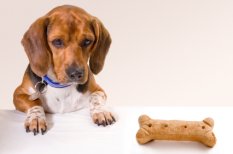 This homemade dog cookie recipe is easy to customize to your dog's tastes. Check the bottom of the recipe for some pet treat variations. Use your imagination!
Always check with your veterinarian if your dog has dietary restrictions.
This article may contain affiliate links. When you purchase through links on this site, I may earn a small commission at no extra cost to you.
Basic Cookie Recipe
Ingredients
1 cup quick-cooking rolled oats
1 cup boiling water
2 tsp. reduced sodium beef bouillon granules
1/3 cup melted butter
1 cup peanut butter
1/2 cup milk
1 whole egg, lightly beaten
3.5 cups (maybe a little more) rice flour
Directions:
Preheat oven to 325 degrees F.
Place oats in bowl and pour boiling water on top. Stir in bouillon granules. Mix and let stand 10 minutes.
To the oat mixture, add melted butter, peanut butter, egg, and milk. Mix well.
Gradually add just enough flour to form a stiff dough.
Knead dough for several minutes until it is smooth and not sticky, adding flour as necessary.
Roll dough to 1/2" thickness & cut into shapes (slice into squares if you don't have cookie cutters).
Place cookies 1/2" to 1" apart on lightly greased cookie sheet.
Bake for 35 to 45 minutes until golden (check on cookies in 30 minutes to make sure that the bottoms aren't browning too much).
Let cookies cool and harden, then serve. Store leftovers in an airtight container.
Recipe Variations
Chicken-flavored dog biscuits: substitute reduced sodium chicken bouillon granules in place of the beef bouillon.
Cheesy pet treats: replace the peanut butter with 1 cup grated cheddar. Sprinkle a little extra cheese on top as well for colour.
Flavour burst: substitute low-sodium beef or chicken broth in place of the milk. Make your own chicken stock for a healthier alternative to buying packaged broth.
Veggie cookies: boil 1/2 cup carrots until soft. Break them apart with a fork and add them to the cookie dough.