From Unwanted to Tail Waggin' Tutor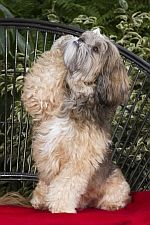 At 12:30 am on Tuesday, May 19, 2009 my best friend in the whole world, my 16 year old black Lab, Sugar, died in my arms. I don't have any close family so Sugar meant everything to me.
I knew a few days before she died that Sugar was very sick and might not live. I went to the local humane society to register to adopt a dog. I had adopted Sugar 10 years before. I was approved, but the apartment complex where I lived had put a small dog stipulation on my adoption.
On Tuesday I went to work but left at 1 pm when the shelter opened; I thought if I could play with a dog that maybe it would help as I already knew I was entering a black hole that I wouldn't come out of.
I shared my loss with shelter employees and asked if a small dog had come up for adoption since I had been at the shelter on Sunday afternoon. I was informed that, as a matter of fact, a little Lhasa Apso had come up for adoption two hours before. She was owner released as unfriendly and untrainable. I asked to see her.
They brought out this small, shaved dog who was shaking because she was so afraid. I took her out in their fenced in yard. I sat on a bench and asked her to come up on my lap. She flew up and started hugging me with her front paws on either side of my neck. I played with her; took her back inside to her kennel. I walked to the front of the shelter, walked back to her kennel and then walked back to the front. I asked when I could take her home ... they said immediately.
Thus begins the story of my life with Maggie May.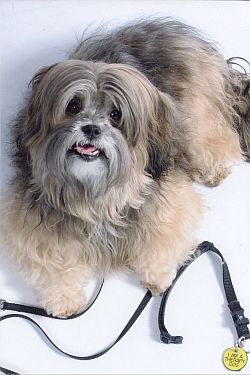 Maggie was afraid of everything and everyone but started to trust me almost immediately. As weeks and months passed, Maggie's love and confidence soared. I took her to the local kennel club where she passed her canine good citizenship. Then we started practicing rally obedience and competing. She was the only Lhasa competing in obeience in our area ... I had been told numerous times that Lhasas didn't do obedience. In July, 2010, Maggie achieved her RN (rally novice) title with the AKC.
Maggie was fascinated with children from the day I brought her home as well as her love of seniors. As her confidence grew, I began to realize her true calling was in helping people ... particularly children. So, in late July, 2010 I (on the spur of the moment) talked to a Therapy Dogs International evaluator on a Saturday evening who was testing dogs that Monday. She had been evaluating and training dogs for 30 years and had never passed a Lhasa or seen a Lhasa Apso good with children. After talking to her, I knew that Maggie would pass the testing.
Maggie and I went to the evaluation. Five dogs were evaluated; two passed ... Maggie was one of the two. The evaluator fell in love with Maggie and said she was a "one in a million" Lhasa.
I called the local public libraries and introduced Maggie May to the children's librarians at both ... they fell in love with her and last November Maggie started her Tail Waggin' Tutor duties. She goes to both libraries once a week and works with 6 children each night. She adores the children and takes her work very seriously. Each child reads 10 minutes and then is rewarded with Maggie sharing her tricks with them. Maggie's trick repertoire includes a high five, high ten, sitting pretty, dead dog, roll over, wave, shake and count to 4.
On May 27th this year, Maggie May was featured in a front page article in our local newspaper the Janesville Gazette. She is a local celebrity wherever she goes and Janesville's own Tail Waggin' Tutor.
From an unwanted/untrainable/unloved little 5 year old Lhasa to an integral part of the community where she is loved and respected in 2 short years.
Maggie May has transformed both of our lives.
Thanks to Deb Stover of Wisconsin for sharing Maggie's story.