Superdog Stella
Our dog Stella is a brindle (brown/white) Boston terrier breed. She is the sweetest puppy, always jumping on our bed waking us up in the morning, following us around as we're getting ready for work in the morning, and faithfully waits by the window for us to get home.
We just recently lost her for 2 whole days during a horrible rainstorm and was afraid we would never see her again.
We brought her over to my sister's house because we had to take a trip to NJ for a weekend wedding. When Stella arrived at my sisters house my fiancee had already left and proceeded to drive home, and my sister's little girls were so happy to play with Stella. But Stella, being a young dog and still unfamiliar with new surroundings panicked and had her little doggie accidents in the house. My brother in law put her in the backyard and called me to come get Stella back fearing she was not potty trained. So when my fiancee went to go back to pick her up, driving about 20 miles roundtrip to get her, Stella apparently had broken free from her leash, crawled under the fencing from the backyard and started to run away through the neighboorhood.
Of course the search started immediately. My fiancee, Anthony spent 6 hours searching for her Thursday night 9/14 and came home at midnight crying. I never saw him cry at all. It was heartbreaking to go to sleep thinking she was out there all alone in the pouring rain and thunderstorms but we were prepared to search immediately in the morning.
When we woke up we notified all the hospitals in Hungtington and Amityville where she was last seen (Farmingdale area). We were planning a weekend trip which we cut short and still had to attend a wedding that Friday night, so we went, depressed and saddened and tried to have faith. We were in Tinton Falls, NJ in the hotel room when we got the call at 10AM. Anthony screamed, "Gloria! They found Stella!"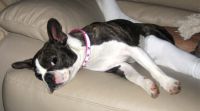 Stella had travelled 5 miles north to a very busy intersection and crossed the Long Island Expressway entering in to the Republic National Airport on Rt. 110 in Farmingdale. The air traffic controllers found her running on the tarmac at 8AM. I guess she wanted to direct the planes (ha ha). She had 3 tags on her including a chip in her neck so they were able to recover her identity and gave us a call. We raced 2 hrs back to Long Island to retrieve her.
We are so grateful our dog survived and I just wanted to tell you this wonderful story of a courageous, smart, loving animal who managed to keep alive during a serious possibly fatal moment in her life.
We'll never let her out of our sight again and if we ever need to go on vacation, Stella will go in a doggie hotel.
Story sent in by Gloria and Anthony M. of New York.