Sam I Am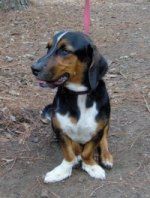 Because of old age, we had just lost two more of the many animals that we had saved from abusive situations. I was not in the mood to take on any more animals, mainly because of the high veterinary costs that we had incurred throughout the years. A process we began almost ten years ago; one that that has caused us many hardships.
As the wife and I were driving near the airport, all at once she turned into the Glynn County Animal Shelter and came to a stop.
"What are we doing here?" I asked her.
"I'm not sure," she replied.
I watched as she opened her door and began walking toward the fenced building.
"Going to come in with me?""
"I'm not going in there," I almost screamed.
I sat watching, as she disappeared into large white building.
There was just something about dog pounds that I hated. Maybe it was being locked in a cage. Maybe it was the sounds of the animals wanting to be rescued and loved. Feelings that I had know very well as an abused little boy.
"Roger," yelled Judy, several minutes later.
When I turned around I saw her standing in a small fenced area, a midsized black and tan dog jumping all over her. I got out of the truck and walked over to the fence.
"Isn't he beautiful?" she asked.
I just shook my head and began walking back to the truck.
"Will you please come in here," she hollered.
I stopped, turned around, and began walking toward the main building. Once inside I was led down a long hallway, dogs barking everywhere. It was almost deafening. As I walked along I tried not to look at the hundreds of animals screaming and barking at me.
As I enter the small fenced viewing area where Judy was waiting, the dog began to jump on me. When I ran my hand down his back I noticed a large scar. I asked the attendant what had caused the injury. She told me that he had been beaten with a metal coat hanger. Looking down at my legs I looked at the many scars that I had received, as a child, while living in a Jacksonville, Florida orphanage. I too had been beaten many times with such an instrument. I felt my neck begin to swell and my throat began to tighten. Very quickly I began walking toward the main entrance to get out of the building as quickly as possible.
"HIS NAME IS SAM AND HE IS GOING TO BE PUT DOWN TOMORROW!" yelled Judy.
"We just can't afford to save any more animals," I whispered.
Unable to speak I walked to the truck, closed and locked the door and I wiped my burning red eyes.
In my heart there was a brutal battle talking place. One that I knew I would lose. Nevertheless, it was one that I had to fight.
As Sam lies on the bed, between my wife and me tonight, for some reason he begins to lick the scars on my leg. In the faint light of the television, I reach over and I begin to pat him on his large scar and I whisper to myself, "Yes, I am Sam."
By Roger Dean Kiser
Reprinted with permission.