From Pound Dog To Therapy Dog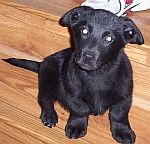 A pound in Utah was so full it sent some of its puppies to another pound in Salt Lake City, in the hope they might be adopted. We had been using Pet Finder for several months, searching for a Corgi mix puppy, when we came upon Chaco's picture. We had run into some trouble previously with shelters not wanting to adopt out-of-state, so we tried not to get our hopes up. The lady at the pound told us that Chaco had been 'viewed' by potential families but was still available. He had to be adopted by the end of the week or his time was up. He was already four months old and the pound was going to euthanize him.
It was a concern that we were out of town, but as the days crept by, the girls at the pound talked with us more and more. They had Chaco neutered 'just in case'. It was the bitterest of winters and it did not look viable to make the drive to Utah get a puppy. We sent a friend who lived in SLC to see Chaco and she said he was adorable. We were already in love. More phone calls discussing possible options were made. Friday morning came around with no solutions, and Chaco's last day drew nearer.
In a last ditch effort, my partner, Paula, called the pound in tears and begged. She said she would buy a ticket if they could take him to the airport and put him on a plane. And that is exactly what happened. The girls at the pound seemed to realize this was a special situation. They put Chaco in a carrier and took him to the airport. It was only a few hours before that little boy was in our laps. He was full of personality from the first moment he hopped out of the crate! We sent a generous gift basket to our 'pound angels'. They went above and beyond.
Chaco looks like a big, black Lab with short Corgi legs. He is quite the combination! Early on he showed an aptitude for learning and wanting to please. We decided to pursue Therapy Dog certification through the Delta Society. He passed his testing the first time! Chaco, now almost 3, works in an Alzheimer's home on Sundays and comes to our elementary school (we both teach) on Wednesdays to work with our autistic and blind students as well as visiting others in order let students read to him. He enjoys doing his tricks: shake, roll over, speak, and catch the bubbles. He loves young and old, big and little, and wheelchairs, crutches, or disabilities don't bother him a bit.
Chaco has given us more love and happiness than we ever could have expected. He is very much adored by all he meets. It is hard to believe he was one day away from being put down. We look forward to many more happy days with our wonderful boy.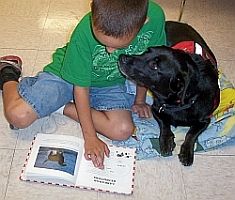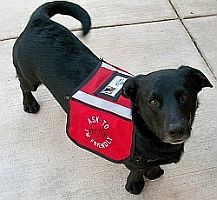 Story sent in by Chaco's happy owners, Peg Biedermann & Paula Willis of Albuquerque, NM.