Oki, Canine Angel of Felines in Need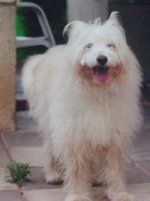 We are three kitties: Narkis, Fanti and Maui. Our canine companion Oki the Terrier changed our lives for good. Oki took Fanti and Maui away from the miserable life as feral cats in an abused colony.
Oki's life had not been easy, either. He had been hit by a car and left to die in the middle of a busy avenue. Our Mummy happened to ride past by and stopped immediately when she saw a terrified malnourished canine lying injured on scorching asphalt. Mummy picked him up and took him straight to the vet. He happened to be a blind and deaf senior canine. Oki healed and chose to stay with Mummy for ever. He flourished at home and started to smile.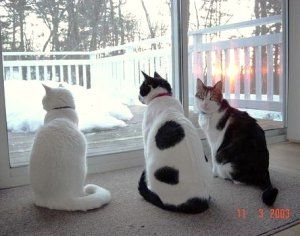 At that time, Narkis was a single kitty at home; Mummy had adopted him because of his deafness. Oki joined Narkis at home and soon they became best of friends despite blindness and deafness!
Oki, in turn, rescued the rest of us kitties: Maui and Fanti. During his daily stroll in the park with Mummy, Oki befriended a feral young and shy feline with a sad life. Soon, they started to spend sunny afternoons together in our home garden. One day, Oki's feline friend asked Mummy to enter our house, so he did and stayed with us for ever. He became Maui.
Winter came, along with it the rain and the cold. During Oki's daily walk in the park with Mummy, a playful kitten would jump with joy from behind the trees and join Oki strolling among his legs. Even in rainy nights, the kitten would jump up from his dry cover and eagerly join Oki while getting wet through! Oki loved him. The kitten then asked Mummy to come home with Oki, then entered the house and remained with us for ever. He became Fanti.
From the very first day at home, we became indoors-only kitties sharing a harmonious life together with sweet Oki. We would cuddle up, play hide-and seek and sleep upon him!
Oki also took care of a tiny feral queen who sought shelter and comfort in our porch. Oki would keep a vigilant watch by her side to give her a safe stay.
Time came when Oki had to depart this life; he kissed us good-bye and wore feathery wings to Heaven. Oki left us a message of compassion, friendship and conviviality. The seemingly impossible became a true story of love and tender care between a senior canine and his feline companions.
We miss you dearly, beloved Oki.
- Narkis, Fanti and Maui
Story sent in by Carmen Mandel-Cesareo and her three kitties.