Hurricane Katrina Survivor Rescued
"My two dogs, Noss and Chata, went through Hurricane Katrina. Unfortunately we had to go to a shelter, and during the storm my fence came down and the dogs escaped. My neighbor across the street had decided to ride out the storm, so he retrieved my dogs and put them in his yard - only to have his own fence blown down. Once again, the dogs got out but he was able to get them back.
Two days after the storm, Noss got out again and was barking at another neighbor's dog through the fence. The neighbor decided he had enough of the barking and shot Noss. We went searching for a vet and came across a clinic where a vet was checking on the animals. He treated my dog and gave him medication and commented that Noss was a very lucky dog. He charged us just $5.00 for the pills.
When we returned home my neighbor helped me mend my fence. Still, ten days later, both dogs would find another hole and escape once again, only this time we were unable to find them. I entered my dogs into PetFinder.com along with their photos, and then hoped for the best.
To everyone who has lost a beloved animal: don't give up. Last Thursday, 2 months after Hurricane Katrina, I received a call from someone at PetFinder.com, asking me to look at some photos they sent to me by email. I could not believe my eyes when I saw my two loved ones! When she called me back, both of us were crying, but she told me she was excited because they had matched the owners. When I asked where they were I was even more shocked to learn they where in Omaha, Nebraska.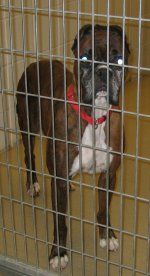 Chata, unfortunately, had to be euthanized as she had cancer. Noss, however, was coming home.
I'm grateful to Joey B., a neighbor who lives just 5 blocks from my home. He found the dogs in his yard one day and, knowing that two such well-mannered dogs must have owners, called the Katrina Displaced Animals Hotline. The dogs were picked up and sent to Hattiesburg, MS, 50 miles away, to a big warehouse. Because I had entered my dogs into PetFinder.com they were able to match us up, and Noss is coming home! All I have to do is pick him up, free of charge. I am sad for Chata but God knows what he is doing.
I cannot express how thankful I am for all these wonderful people. So please, all of you out there, don't give up. If you have not done so add your pet to the Animal Emergency Response Network.
NOVEMBER 8, 2005 - FINAL UPDATE
At 07:30, I got a call from Kirsten S. of the Nebraska Humane Society. She and a friend drove 16 hours to drop off 9 animals to be reunited with their owners at no charge. They were simply going to rest up and drive back as we have no rooms. I offered my home as that was the least I could do, but was declined politely. Noss is home now. We all miss Chata but I know God works in mysterious ways.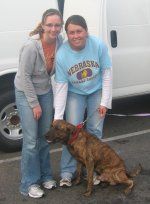 I would like to thank everyone at all the Humane Societies in the USA and PetFinder.com for bringing my loved one back home to me.
To Kirsten and friend, I thank you from the bottom of my heart for the fine job that all of you do. May God keep you safe in all your travels and may he reward you as you reward us reuniting pets and their owners."
Sent in by Carol D. in Gulfport, Mississippi - November, 2005

Carol and her dogs were in the path of Hurricane Katrina. She has now been re-united with her dog Noss, with help from the many generous people who stepped forward to bring pets and their people back together.