The Cat of Consolation on Chickamauga Lane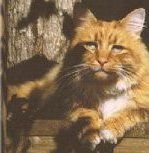 I met Pumpkin in 1996. Some people would say he was a "stray" cat, but I've come to understand that he is actually a "wandering minister" who chooses certain people or families who need a special gift of love. Folks who live on my street, Chickamauga Lane, know Mr. Pumpkin the cat because he is a very friendly fellow. He stops by regularly to visit anyone who welcomes him, sometimes even when they don't!
One summer, Pumpkin sauntered inside my neighbor's house for a "visit" and no one saw him enter. They were packing up and leaving for a 10 day vacation! After a week of searching for him, we thought he had disappeared. When our neighbors returned they found Pumpkin inside their house and he was okay. He'd survived on left-over dog bones and got water from the toilet to drink. Thankfully, they'd left the toilet seat up! Pumpkin revealed his impeccable manners by using only one bathroom rug on which he'd relieved himself. My kind-hearted neighbors were happy to only have that one rug to toss in the garbage and we were all delighted that Pumpkin was safe and unharmed.
Pumpkin appeared in my life just when I needed a "furry friend". It was the winter of 1995/1996, and a very sad time for me. My dear dog Pepsi, died on February 10th, 1996. For the first time in 16 years I was returning home from work with no one waiting "just for me." However, there was this big orange cat visiting in my cul-de-sac that winter. He would "hang out" in my garden and my neighbor's children named him Pumpkin.
After Pepsi died, a friend mentioned to me that the sweet orange cat at the top of my hill was "much too skinny under all that hair for a cat his size." Since I had never had a cat in my life before, I knew very little about them. I had been distracted by my grief and hadn't even noticed how skinny he was or that he never seemed to "go home". Then the light bulb went off in my head! This darling cat didn't have a home! I hurried to the store to buy cat food.
The charming, gentle Pumpkin quickly became part of our family. We appreciated his intelligence, gracious manners and funny antics. I began to look forward to coming home from work, because Pumpkin was always right there waiting for me. I also feel Pumpkin helped me get through one the most difficult times of my life.
A year later, my neighbor Sally's beloved dog died. She told me that Pumpkin began to visit her more often and she believes that Pumpkin also helped her during her time of grief.
During the summer of 1998, my step-daughter, Savannah, found a kitten and brought him home. Pumpkin was not pleased with Pippin, the new boy cat. Pippin is a bit aggressive to say the least! We tried everything we could think of to help the two cats get along in the same home, but nothing worked.
It broke my heart when Pumpkin went in search of a new home. He found Tom and Sandy, who lived at the other end of Chickamauga Lane. Perhaps not coincidentally, Tom and Sandy had also recently lost their family dog and they too had never had a cat of their own! I think it must have been "time" for Pumpkin to find Tom and Sandy. He was great joy to them for the three years they lived here.
Last year Tom and Sandy had to move out of state and we all decided together that it would be best not take Pumpkin with them, since ministering to the folks on Chickamauga Lane appears to be Pumpkin's chosen vocation in life. After Tom and Sandy moved away, Pumpkin picked the Muskgrove's to be his newest "home base" family where he is welcomed, fed, and offered laps to nap on.
I can't extend enough praise and thanks to them for caring for this beautiful, magical, marvelous cat. He also visits Helen who lives a few houses down from the Muskgroves'. Helen has said, "I think that cat has ESP!" The Muskgroves and many of my friends have made this comment about Pumpkin:
"There is something very special about him... his eyes, his face... he just looks so wise. And he seemes to always know what we're thinking and saying!"
I take walks down the street with chicken treats for Pumpkin. He gets along perfectly with my new dog Abby. (Abby was "trained" by Pippin to respect all cats, which Pumpkin appreciates, I'm sure.) Even though it's been many years since he lived with me, he knows my whistle, and will come running to greet me, talking and "chirping" the whole way to my feet where he immediately flops down and rolls over for a scratch.
I send my thanks to all the kind folks on our street who stop to speak to Pumpkin, who invite him in for visits and offer him special treats. He is a missionary to human beings, the Cat of Consolation on Chickamauga Lane, a furry friend who blesses all who have the opportunity to know him.
April 2005 Update: It's almost ten years since Pumpkin first appeared in my cul-de-sac. He's still on Chickamauga Lane, blessing many!
With love and thanks to all of you who are kind to and care for animals,
- Suzi Bailey