Send Us Your Pet Stories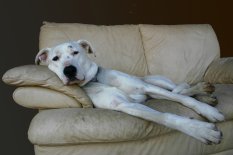 Your pet is the truest friend you could ever have, a funny clown that never fails to bring a smile to your face, and the most courageous creature to ever touch your heart. Share her story with the pet-friendly community!
If your story is selected, it will appear in this section, a tribute to your pet and to those that love her.
Story Guidelines:
WE DO NOT ACCEPT:

Requests for donations or medical help;
Requests to post pets for adoption or re-homing;
Promotional pieces about your service or business;
Press releases of any type.

Stories should be approximately 500 to 800 words.
A photo of your pet is required for your story to be considered.
All pets are eligible!
Please note that we do not generally print memorials, unless there is a real story behind it.
We appreciate the time you put into sending your story. Unfortunately, we cannot respond to every story submission. You will be notified if your story is published. We thank you for helping to build our online pet community!