dog
---
Hi, I am a newbie and would like to hear from dog lovers regarding dog brain tumors or lesions. My experience began in April 2012. I have a rescued Toxirn (chihuahua,cairn terrier mix) named Yogurt. After less then one year in our home, he was showing signs of a neurological problem. We did everything up to a CT-scan because of the cost. All tests, and blood work pointed to a brain tumor or lesion of some sort. Until recently, he has done okay. Now I notice his breathing is much faster and labored at times. He is restless at night too. I wanted to have him seen by his doctor, but my husband says "NO" because he thinks it's a waste of $$ due to the fact that Yogurt will probably die anyway.
Bookmark/Search this post with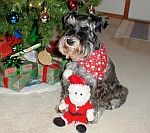 She awoke feeling as rested as a pup after a long nap; she stretched, stood and the lush meadow of clover beneath her paws felt velvety. She did not understand. Nor did she grasp the beauty all 'round her for she'd been without vision for five years, although images did come to her in dreams.
Bookmark/Search this post with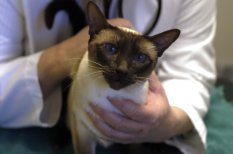 There may come a time when your pet needs immediate care outside the normal operating hours of your regular veterinarian.
You know your pet and his normal habits and behavior better than anyone, but you may be unsure if your pet needs emergency care. Following are some signs you can look for that will help you determine if you are dealing with an urgent situation.
Changes in behavior are often a sure sign that there is something going on that needs to be treated immediately.
Bookmark/Search this post with
Dogs and cats are notorious troublemakers. Getting into the garbage, knocking things off of shelves, snatching the last bite of your sandwich if you leave it for just a second. These behaviors can be frustrating but they are generally harmless.
Some irritating pet behaviors are not so innocent. What if, instead of ingesting the last bit of your sandwich, your pet eats something more dangerous?
Bookmark/Search this post with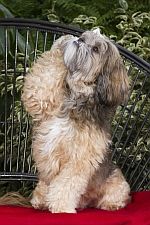 At 12:30 am on Tuesday, May 19, 2009 my best friend in the whole world, my 16 year old black Lab, Sugar, died in my arms. I don't have any close family so Sugar meant everything to me.
I knew a few days before she died that Sugar was very sick and might not live. I went to the local humane society to register to adopt a dog. I had adopted Sugar 10 years before.
Bookmark/Search this post with
Hi guys!
Glad to found this forum that talks about dogs.
I owned a 5 month old belgian malinois, he is easy to teach but if there is someone else around
he easily got destructed, and will not mind my command at all.
What's the proper age for them to start in training?
Hope any one can tell his idea.
thanks.
Bookmark/Search this post with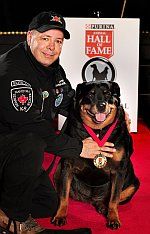 Toronto, ON (May 16, 2011) – Loyalty, bravery, unconditional love, devotion and intuition – these are just a few of the ways to describe the 2011 Purina Animal Hall of Fame Inductees – K'os, Moose, Scooter and Missy, and Stinky.
Bookmark/Search this post with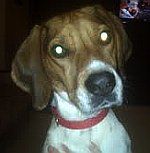 One morning I got up and let the dogs out in the backyard about 5:30. I went back to bed for a bit. Then I got up, took a shower and started getting ready for the day. About an hour passed and I went to let them in... gate open... no dogs! Panic strikes! I jump in the car and go looking for them... stopping every garbage truck along the way to see if they have seen three beagles that looked like they were enjoying their new freedom. No such luck. After about an hour, I stopped in at home. Joey was sitting on the front step of the house (front yard) as if he had been there the whole time. Liar! Jorja and Jersey were still at large.
Bookmark/Search this post with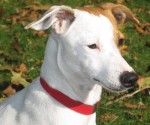 First & foremost, I am far from being a writer. I simply felt the need to write something to express gratitude for the selfless acts given by virtually an entire community of warm hearted people. Might I please first start by introducing myself? My name is Christopher LeBlanc. My family and I are from Central Massachusetts & I had occasion to be in Branford at my Mother-in-Laws house this past weekend, 11/13 through 11/15. Now my intentions were only to have a short visit on Saturday as my 11 year old daughter Rylee and I were making a stop off to show Mom-in-law & my Mom our newly adopted 6 & 1/2 month old Italian Greyhound/Jack Russell mix puppy.
Bookmark/Search this post with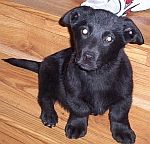 A pound in Utah was so full it sent some of its puppies to another pound in Salt Lake City, in the hope they might be adopted. We had been using Pet Finder for several months, searching for a Corgi mix puppy, when we came upon Chaco's picture. We had run into some trouble previously with shelters not wanting to adopt out-of-state, so we tried not to get our hopes up. The lady at the pound told us that Chaco had been 'viewed' by potential families but was still available. He had to be adopted by the end of the week or his time was up.
Bookmark/Search this post with