Caring For Your Pet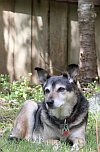 Pet Care Tips
Our pets are our family. The love, care, and attention we give our pets is returned many times over. Check out our helpful library of pet care articles.
Featured Articles:
Is it time to add another much-loved, furry and stubborn little soul to your life? Find out how to choose the right pet for your lifestyle. Consider adopting a rescued pet or perhaps you can give a senior pet a loving retirement home.
Fun and Diversions
Love a good story?
Check out our collection of pet stories, sent in by readers just like you! Read the funny, touching, and dramatic stories that have come through this pet owners community.
Want to get away from it all?
Well, that is, get away from everything except your pet! If you're thinking of going on a trip but can't bear to leave your pet behind, you're in luck. Find some great hotels, motels, resorts, cottages, bed & breakfasts, and more when you want to vacation with your pet - sometimes a holiday just isn't the same without your best friend!
More Useful Stuff
ScamperingPaws.com - dog care, training and behavior tips, plus fun homemade dog treat recipes that are perfect for use during training.
PawsperousPets.com - a good collection of pet humor.
PetFriendlyRentals.ca - tips for people who are looking for rental housing and apartments that allow pets. Includes information for landlords as well.